Warum die Dinos immer trauriger wurden, wisst Ihr doch, oder? Ist ja klar, weil sie (laut einem mehr oder minder bekannten Schlager) nicht an Bord der Arche durften. Eigentlich ziemlich fies, jemanden wegen der Körpergröße derart zu diskriminieren! Aber zum Glück hat sich nun 'ne Art zweiter Noah gefunden: Cronos. Dieser Typ reist mittels Teleport durch Zeit und Raum um Baby-Dinos zu retten.
Den Auftrag hierfür bekam er von der Firma THALION, und das Projekt nennt sich A Prehistoric Tale. Anscheinend kann man auch den bisherigen geschichtlichen Überlieferungen und Forschungen nicht glauben, denn nachdem ich die ersten Bilder von Cronos' Zeitreisen zu Gesicht bekam, wurde mir klar, dass es damals gar nicht so ausgesehen haben kann, wie man das immer zu hören bekommt. Beispielsweise legten die Dinos ihre Eier nicht auf den Boden oder in Erdlöchern ab, sondern hängten sie - wenn man Cronos Bildern glauben kann - an recht stabilen Gerüsten auf, die von Blumen umrankt waren und zum größten Teil sogar schon Teleports hatten, damit man jeden Punkt des Gerüsts problemlos erreichen konnte. Cronos selbst tritt durch blau-weiss flammende Türen ins Geschehen und macht sich dann folgendermaßen an die Arbeit: Er klettert mit Hilfe von Leitern, rankenden Pflanzen und eben genannten Teleports auf den Gerüsten herum, wartet, bis die Minis schlüpfen, um dann sogleich über sie zu springen. Dann nämlich sind sie sofort in einen Käfig eingesperrt und können so nicht mehr weglaufen. Ab und zu wird Cronos jedoch in seiner Arbeit erheblich durch Scharen angreifender Flugsaurier behindert. Aber selbst an eine solche Situation hat man in der grauen Vorzeit schon gedacht. Auf jedem dieser Gerüste hat man nämlich ein oder zwei Schächtelchen versteckt, in denen sich eine Maus befindet. Wird der Nager aus der Schachtel befreit, so lösen sich im Nu alle angreifenden Saurier in Luft auf.
A Prehistoric Tale besteht aus insgesamt 80 Leveln. Ein Level gilt als abgeschlossen, wenn alle Saurier ausgeschlüpft sind und anschließend in Käfige gesperrt wurden. Aber aufpassen: Springt Cronos versehentlich auf einen der Dinos anstatt darüber, so kostet dies den Dino das Leben und den Spieler 1000 Minuspunkte. Ein Minus muss man wohl auch der Thalionschen Grafik geben. Denn Cronos bewegt sich, als hätte er ein Holzbein. Leider verlangsamt sich auch der gesamte Ablauf, sobald zu viele Sprites über den Schirm huschen (beispielsweise beim Flugsaurier-Angriff). Die Zeichnungen an sich sind recht nett gelungen. Allerdings muß man sagen, daß dieses Game sehr Dino Eggs ähnelt - oder besser: Die Spielidee wurde fast komplett übernommen. Trotzdem macht es doch Fun, die Saurierbabies zu retten. Wie heisst es so schön: "Jeden Tag 'ne gute Tat."
Jeder Packung liegt eine "Wings of Death"-Demo bei.
Sandra Alter
Wo jetzt noch dicke Dinosaurier friedlich weiden, wird bald ein gewaltiges Erdbeben wüten. Die Dinos gingen urplötzlich hops, deren Eier mit dem Nachwuchs ebenso und die gesamte Evolution wäre im Eimer. Streng wissenschaftlich gesehen ist das natürlich Quatsch, aber schließlich muss der Zeitreisende Cronos ja irgendeinen fadenscheinigen Grund haben, wenn er die Saurier-Ära besucht. Die Saurierei sieht für Euch so aus: Ihr steuert Euren Cronos über Plattformen, die durch Leitern miteinander verbunden sind. Alle herumliegenden Eier und Dino-Babies sollte er aufsammeln und in seinem Teleport-Tor abladen. Es kreuchen und fleuchen diverse Untiere herum, die Ihr meiden solltet. Besonders rabiat sind ausgewachsene Dinosaurier-Muttis, die von der Entführung ihres Nachwuchses wenig begeistert sind. Indem man eine Ladung Mäuse auf einer Plattform ablädt, bleibt diese eine zeitlang frei von wutschnaubenden Dino-Eltern. Nach jedem zehnten Level folgt eine von drei verschiedenen Bonusrunden, um tüchtig Punkte zu tanken.
Heinrich Lenhardt
Welch treffender Titel: Die Spielidee hinter "Prehistoric Tale" ist wirklich prähistorisch. Das Aufsammeln von Dinosauriereiern konnte man bereits Anfang der 80er Jahre bei "Dino Eggs" auf dem C64 üben. Außer einem Zwei-Spieler-Modus ist den Programmierern bei ihrer Vergangenheitsbewältigung nicht viel Neues eingefallen. Rasch breitet sich einlullend und unaufhaltsam die Langeweile aus. Das Spielprinzip gibt nicht genug her, um Amiga-Ansprüchen des Jahrganges '91 gerecht zu werden: Schlaffes Saurier-Süppchen; stark angesäuert, weil jenseits des Verfalldatums veröffentlicht.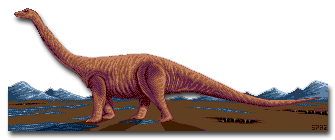 Die Dinosaurier sind ausgestorben, daran ist nicht zu rütteln. Aber habt Ihr gewusst, dass sich die Viecher um ein Haar zu früh verabschiedet hätten? Tja, und dann wären wir Menschen erst gar nicht entstanden! Wie gut, dass man bei Thalion einen Zeitreiseexperten unter Vertrag hat...
Es handelt sich dabei um Cronos, einen außerirdischen Wissenschaftler, der sich 80 Level lang abmüht, die gewichtigen Urviecher aus einem Erdbebengebiet in eine sichere Zeitzone zu teleportieren. Dazu hüpft und klettert er über den Screen, um Echsenbabies einzusammeln und Sauruseier aufzulesen. Ausgewachsene Dinos sind allerdings viel zu gefährlich, ihnen sollte unser rühriger Tierschützer besser aus dem Weg gehen. Neben dem Großgetier hat Cronos noch ein paar andere Widersacher, beispielsweise Spinnen oder bösartige Pflanzen. Nach jeder Feindberührung nehmen seine Kräfte rapide ab, und er muss schleunigst in das sichere Teleportertor eilen. Hier wird Power bleifrei nachgetankt, und man lädt die Eier ab - die gefangenen Jungsaurier werden bei der Gelegenheit automatisch mitgerettet. Außerdem ist das Teleportertor der Startpunkt jedes Levels, von hier aus unternimmt man seine Streifzüge, und hierher darf man beliebig oft zurückkehren. Nach einem Rettungstransport taucht der Teleportbogen allerdings an einer anderen Stelle wieder auf. Natürlich kann man sich die Arbeit erleichtern: Unter den Plattformen hängen z.B. nette Weihnachtspäckchen, in denen sich Mäuse verbergen. Werden die kleinen Nager freigelassen, bleibt man vorübergehend von alten Dinos verschont (die Biester haben Angst vor Mäusen!). Weiterhin tauchen die verschiedensten Boni auf, die man mitgehen lassen sollte. Soweit man sich unter dem heimeligen Tor befindet, kann ein Level sogar jederzeit verlassen werden, aber: Ist er nicht vollständig gelöst (es könnten ja noch irgendwo versteckte Eier liegen), verliert Cronos ein Leben! Davon hat er vier Stück, allerdings auch bis zu 20 Continues, was den Artenschutz erheblich vereinfacht. Nach jedem zehnten Level wartet eine von drei verschiedenen Bonussequenzen, wo es beispielsweise Dino-Eier aufzufangen gilt. Das Game scheint anfänglich ziemlich leicht zu sein, zumal die Level jeweils nur einen Screen groß sind - aber bis zum achtzigsten Bild ist es ein weiter Weg!
Was man auf der Rettungstournee so an Grafik zu sehen bekommt, bricht nun wirklich keine Weltrekorde, aber immerhin sind die Animationen sauber, außerdem gibt es gelegentlich recht schöne Zwischenbilder. Wie immer sehr schön hat auch Meister Hippel seine Soundtracks komponiert, wogegen die ersatzweise einschaltbaren FX eher blässlich wirken. Dafür geht die Steuerung wiederum voll in Ordnung: Der Echsen-Retter wird absolut problemlos mit dem Stick dirigiert.
Fazit: Mit Prehistoric Tale hat Thalion ein kleines aber feines Spielchen abgeliefert, das ganz einfach Spaß macht - und zwar fast so viel, wie die Urviecher groß waren!
(jn)
Hurra! Hurra! Ein Clone ist wieder da! Diesmal kommt er von Thalion aus Gütersloh, und beide Eigenschaften sollen für Prehistoric Tale wahrlich kein Negativum sein. Das Spiel ist zwar ein Abziehbild von "Dino Eggs" - C64-Freaks werden sich mit Freuden daran erinnern - aber ein gutes. Wer wieder mal etwas Abwechslung sucht und vor Lauf-, Hüpf- und Sammelorgien nicht zurückschreckt, wird mit Prehistoric Tale aufs Allerfeinste bedient. Darin treibt sich nämlich ein Zeitreisender in der Epoche der Dinosaurier herum und versucht, die Tierchen vor dem Aussterben zu bewahren. Prehistoric Tale glänzt weniger durch die Spielidee als durch die solide Programmierung, die sich in Steuerung der Spielfigur, Timing der Gegner und Aufbau der Levels äußert.
J. W. Kähler
AMIGA Kickstart/ ST-Computer
Bei einem Ausflug in die Vergangenheit macht der Zeitreisende Cronos eine erstaunliche Entdeckung: Vor 150 Millionen Jahren raffen Erdbeben fast alle Saurierbabies dahin. Um ein vorzeitiges Aussterben der Urviecher zu verhindern, beginnt der besorgte Wissenschaftler mit der Evakuierung.
In jedem der 50 Levels liegen zahlreiche Sauriereier verstreut, die aufgenommen und zum Teleporter transportiert werden müssen. Junge Reptilien gilt es durch einfaches Überspringen einzufangen, was deren Eltern naheliegenderweise gegen den Strich geht. Eilends auf den Plattformen ausgesetzte Mäuse halten die rachedurstigen Ungetüme eine Zeitlang in Schach, an der richtigen Stelle plazierte Felsbrocken killen sie gar. Zu Beginn muss sich Cronos mit drei Eiern pro Teleporter-Gang begnügen. Das reichhaltige Extra-Arsenal beinhaltet zum Glück eine Vorratsbatterie, die lästiges Hin- und Herlaufen überflüssig macht. Ebenfalls von Nutzen sind Schutzschilde, Waffen und Abkürzungen in höhere Spielstufen. Sollten jetzt immer noch Probleme auftreten, hat Cronos' Freund Jeff die Möglichkeit, ihm unter die Arme zu greifen und in einem der drei Bonuslevels mit auf Punktejagd zu gehen.
Schon die an den Haaren herbeigezogene, mit Tippfehlern übersäte Hintergrundgeschichte dieses Geschicklichkeitsspiels aus deutschen Landen lässt nichts Gutes vermuten. Das Schauspiel, das sich dem Betrachter allerdings nach dem Laden auf dem Bildschirm bietet, ist mehr als eine Zumutung. Das mäßig animierte Helden-Sprite läuft, springt und klettert durch eine Anhäufung lieblos zusammengeschusterter Bildschirme. Beim pixelgenauen Springen über die bedenklichen kleinen Monster steht die Kollisionsabfrage beharrlich auf Seiten des Computers. Solcherlei Unfairness stört nicht all zu sehr, denn besonders lange hält man es sowieso nicht vor dem Monitor aus. Vom abwechslungslosen Gameplay wird man schnell in den Schlaf geschaukelt. Kein Wunder, warum das Spiel "Prehistoric Tale" heißt. Das Spielprinzip stammt aus der Urzeit. Anno 1983 musste man schon auf dem C64 ein Programm namens "Dino Eggs" über sich ergehen lassen, das diesen verspäteten Nachzügler locker in den Schatten stellt. "Prehistoric Tale" ist ein Flop. Daran ändert auch die kostenlose "Wings of Death"-Demo-Disk in der Verpackung nichts. Was ist los mit Thalion? Normalerweise produziert die Gütersloher Spieleschmiede High Quality Software. "Prehistoric Tale" scheint wohl ein Ausrutscher zu sein...
cbo
A Prehistoric Tale is a game with a tale behind it allright. Last summer, (yes, a year ago) most of the notorious Lost Boys were present at the office of Thalion Software. Tim (Manikin) was programming, Dave (Spaz) was graphicing and Fabian (Oxygene ...just joined!) was assisting a bit. Also, yours truly was present some weekends to bring the Plantiac and to hang out and to join the Lost Boys too. Now Richard is really responsible for this game. He designed it, wrote all manuals and shit and motivated (read: harassed) Tim and Dave into doing their best. I remember that summer being a hot one. I still have a picture on my monitor of all people that worked on the game, we are all wearing shorts and T-shirts and Dave is sitting on two crates of Coke. Boy, did we freak out, getting drunk on Plantiac, programming, finishing "Life's A Bitch" and of course, the game.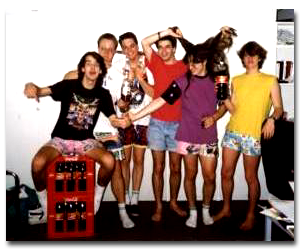 "Dave and Tim gave me a Christmas card [some time later] in which they apologised for spoiling my summer (during which we did "A Prehistoric Tale" for Thalion). As a matter of fact, I spoilt their summer - but whatever." Richard
So. How about an (objective!) review? Right.
In this game you are Cronos the timetravelling dinosaur egg collector. You have to collect the eggs and teleport them to the present times so the dinosaurs can be preserved. Of course, there are all sorts of dangers lurking in the prehistoric times, from man-eating plants to hordes of crazed locusts that endanger your life. The setup of the game is quite simple, you control a man that runs around a screen full of platforms and ladders and you have to collect eggs while staying away from nasties. At all times, there is the teleport field sitting somewhere in the screen where you have to bring your eggs and where you can replenish your energy. It has the habit of moving around though, so you have to plan your route across the platforms. As we all know, eggs hatch and so they do in this game. Lovely baby dinosaurs emerge from them, and you can catch these by jumping over them. When you do so, they are safely encaged, protecting them from the cruel world, with baby-dinosaur eating spiders and other lurking horrors. As soon as you have collected all the eggs and baby dinosaurs, you can leave the level, and bonus points are awarded depending on how many eggs you collected. During the game, all sorts of bonuses appear that sometimes give you points, or extra lives.
The graphics are simple yet effective, and there are lots of little funny things in them if you look close enough. Tim did quite a good job coding it, even though it is not very complex. No scrolling, no complex sprites and patterns, but still, it looks good and smooth (1 VBL). Music and sonix are by Mad Max, so we all know that they must be good.
Playing this game by yourself can be boring, running around the platforms and collecting the eggs. There isn't enough happening to keep you occupied, but as soon as a second player joins, it becomes good fun! Jeff will join the action and the two of you will run around the screen, snatching eggs away just before the other one reaches them, teleporting the energy field away, throwing boulders on top of one another and generally having a laugh about it.
Now this is not the most amazing game ever produced on the ST, but especially if you play it with two people, it can be good fun. Also, there are lots of levels (80) with quite some different graphics, sub-games (between certain levels) and hidden levels. A few soundtracks and nice highscore screen and an absolutely brilliant game over sequence (I wrote it!) make it complete.
Thanks to Richard for getting me the copy I more or less deserved. Review copies would have been impossible, knowing Thalion's recent marketing strategies (if that's what you can call them).
Stefan Posthuma