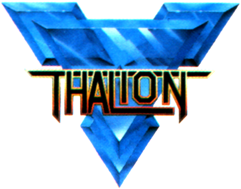 Thalion reactivated
Active finally ended all speculation about the future of Thalion products in the UK by announcing that it had tied up sales and marketing rights with the promising German company.
Several Thalion products, including Leavin' Teramis, Atomix and Dragonflight were left without a UK publisher after the demise of Grandslam earlier this year. There was some speculation recently as to wether US Gold would initiate a partnership with Thalion, but it simply never happened.
Active's main man, Robert Stallibrass, needed no convincing of the label's worth: "For quite some time German software houses have been developing very good software. They steamed ahead of English companies by producing games that are a hell of a lot more original. Thalion is the best of the bunch." The two companies are wasting no time in getting their new relationship off to a flying start. The puzzler Atomix will appear at the end of August, with the huge RPG Dragonflight and the shoot 'em up Leavin' Teramis to follow. Featuring 10 dungeons, each with 14 levels, Dragonflight's combat and magic action is complemented by film-like animated sequences. Dragonflight will be available for ST and Amiga at £34.99. Wings of Death also involves dragons, only this time as the star of a frantic vertically scrolling shoot 'em up with plenty of power-ups and mid and end-of-level guardians. Wings of Death should be available from Thalion and Active soon, at a price yet to be announced.
The One